Its March and the weather is cool and breezy most of the time. The sun is out and the view of the Arizona desert is absolutely incredible. I can walk around for hours with a metal detector in these conditions. But instead of metal detecting, I am going to be dredging a riverbed for my very first time!
We bought a new 3 inch Keene highbanker/dredge combo from our local reseller. I spent weeks of researching how to dredge streambeds, riverbeds and where to find gold. I watched videos, read books, talked to folks and joined some online forums. There is a lot of information to learn and I was eager for the experience. Once we got all the equipment we needed, it was hard to sit still and wait for the day when we could use it. Now that day has come!
(click on the picture to enlarge it)
It's a 12×48 sluice that has adjustable legs to keep it stable above the water line. Its aluminum structure makes it lightweight so two people (or one tough person) can easily move it around. The hopper is made of a thick durable plastic that will last a long time.
We needed a two stroke motor and pump and we chose a 5 HP Honda because of how well Honda's reputation is. This motor starts right up with no hassles which I've read about before. Just make sure to keep good care of it. These Honda's will last many years if maintained well. The pump is a special hardened steel made by Proline.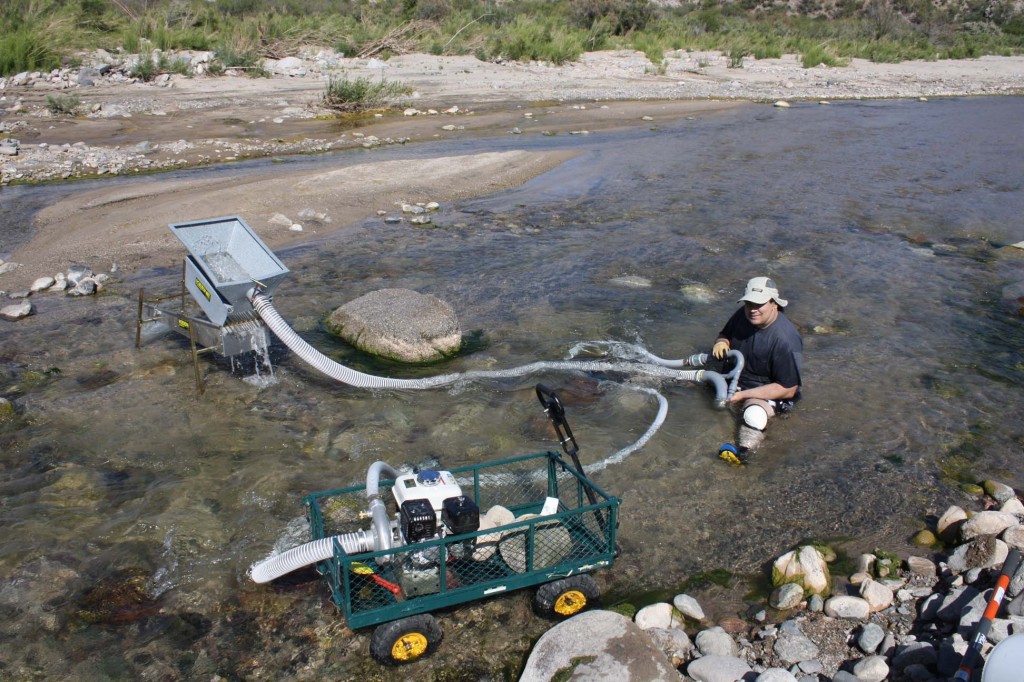 (click on the picture to enlarge it)
The 3″ low pressure hose and the high pressure 1 1/2″ hose were a little shorter than I expected. The folks we bought it from said it would be long enough and I agree, but I wish it were a little longer so I can travel more around the riverbed. The amount of water going through the high pressure hose can definitely knock a man down (or maybe a cow?). We also have a 50 foot high pressure roll-up hose with an attachable fireman nozzle so I can spray Josh some dirt.
I was watching a YouTube video about a nozzle called the Hydroforce 350 and it looked useful enough that we could apply it to several other dredging trips we have planned. You can see me holding it in the picture. The amount of water that is forced into the nozzle is so strong it will hurt your hand if you try to block the opening. Its also hard to believe that I had this engine on idle the entire day. The amount of water that the pump pushes is incredible.
All the material goes through a classifier in the hopper and discards the big rocks on the backside. This way only the smaller material goes into the sluice. Never forget to metal detect your trailing piles. You might find a big nugget or gold attached to a rock.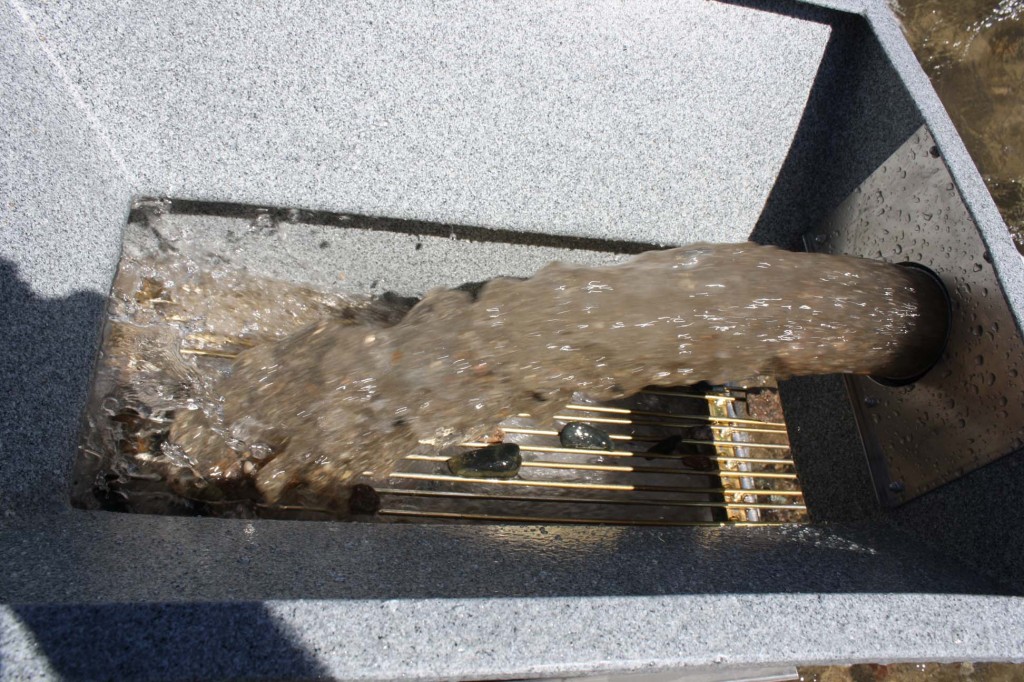 (click on the picture to enlarge it)
The nozzle was sucking up everything so fast that all was left were bigger rocks that could not fit in the nozzle. I quickly inspected almost every rock before I threw it out of my way. I went underneath and around each rock and also went deep down into more rock layers until I could not reach further. I used these rubber coated cotton gloves from Home Depot that worked great for handling slippery rocks and protected my hands from possible cuts. The brand name is called Grease Monkey. Its worth mentioning.
Sure was fun being down in the water in the middle of a desert.