NOTICE: This article is deprecated – BLM discontinued Geo Communicator
If you are researching areas in Geo Communicator for land that you may be able to claim mineral rights, then you will need to know the following fact before you begin.
Below is a picture of a section of the PLSS grid in Geo Communicator.
Our 40 acre placer mining claim is located in a particular section like this.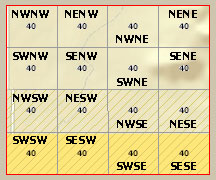 Its important to know that the BLM does not store in its database the exact 1/4 of 1/4 section of our 40 acre mining claim.
They only record it as 1/4 section in which I marked blue in the picture below. Thus, you or others might be misled into thinking that there are 4 x 40 acres of claimed land. This is a fundamental flaw in the way BLM chose to record mining claims in their computer system. We discussed this with the director of our local BLM office and found that they offer no way to fix this visually.
This is why you see load or placer mining claims on the map in so many areas. Part of the section may be unclaimed even though it does not look so.
Our actual 40 acre mining claim is marked with a red X in the image below.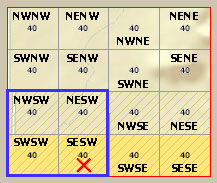 So make this a lesson to you. What you see on Geo Communicator that appears to be claimed, may not in fact be claimed.
The way to know for sure is to search for recorded documents at the County Recorder Office and see if there are any Location Notices in relation to a particular area. Look at the Location Notice Map to see which part of a section is claimed. You will eventually figure out what areas of a section are claimed or not claimed. Each claim must have recorded either a Notice of Intention to Hold Mining Claims/Sites (MCF110) or Maintenance Fee Form (MCF112).
For a mining claim to remain valid, it must be staked and recorded by December 30 every year or else it is up for grabs by anyone. If staked, but not recorded, then it is considered abandoned and you have legal right to claim it.
For mining claims in Yavapai County, you can freely search and download any recorded documents on their web site. Use the Advanced search option to lookup a specific Section, Township and Range.