Josh and I went to the Gold Show in Mesa yesterday morning. By the time we arrived the parking lots were almost full. Wow.
If you have not went yet, check the event schedule to find one near you. Its worth going to.
From rock picks to trommels and everything in between, vendors were selling it all. We walked around looking at all the neat stuff and talked to almost every vendor there about their products and was shown a demo.
We were particularly interested in ways to recover fine gold of 150 mesh or higher from all our sand that the blue bowl was unable to recover. We were also interested in the GPAA Alaska Gold Expedition.
A few items stood out from the rest that in my opinion had potential. Although every vendor claimed their contraption would recover more gold than another, we remained skeptic and looked at the design and compared it to our experience with similar devices and asked the vendor many questions.
Gold Magic
Web site: www.goldmagic.com
Email: info@goldmagic.com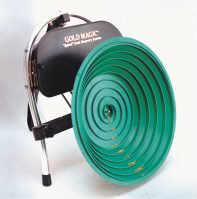 We have experience with spiral panning and always lost fine gold. We have adjusted the water flow and tilt axis many different ways but can never seem to find that balance of retaining the micro fine gold and removing the black sand. This is because water injected spiral panning agitates the concentrate too much. This device is different because the pan sits in the water which appears to cause less agitation to the concentrate which helps keep the micro fine gold in the pan. We saw this in action and I was impressed with the amount of gold it recovered.
This product claims to recover gold without using water and it does so because I saw it in action, but it appeared to not recover micro fine gold as good as using it in water. Obviously this is the case no matter what product you use. Water is always preferred for fine gold recovery.

I recommend this product over any other water-based spiral pan.
Black Magic
Web site: www.pro-goldprospecting.com
Email: progoldprospecting@cox.net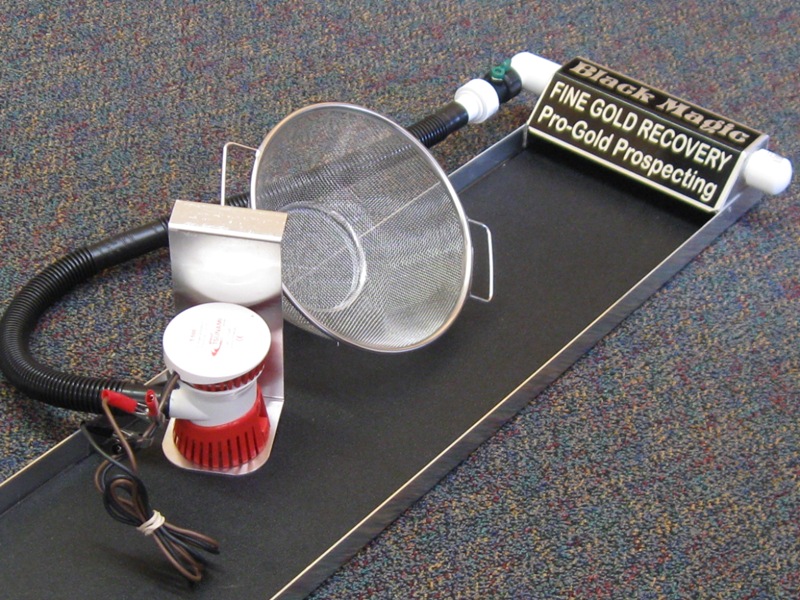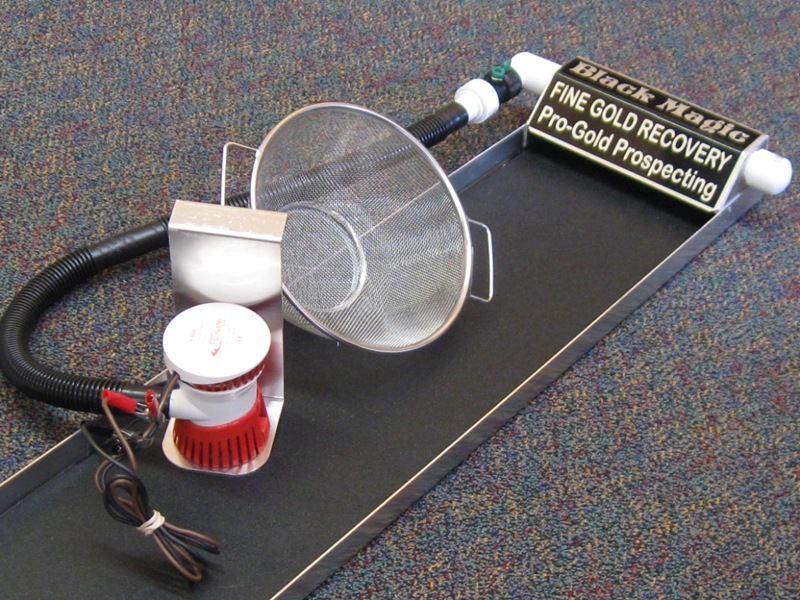 We liked this design because it was based upon older design concepts which work very well for fine gold recovery. We saw a demo and were pleased with the results.. We purchased it and brought it back to the office and tested it on some concentrates which had already been blue bowled twice over. I was amazed at how much fine gold had been recovered.
It was a little tricky getting the angle and water flow correct.
Here are a few things we learned from trial and error
Rub jet dry into the smooth black matting or else the water flow will not evenly distribute itself.
Use jet dry in your water tank.
Make sure to keep the pump away from the bottom of your water tank or else you end up with small bits of crap recirculating again.
You should also use nylon stocking and rubber band over the pump to keep your water clear from debris.
Make sure no bubbles are coming out of the top of the sluice or else a bubbles will hit and wash away your fine gold.
I am thinking about adding a small strip of black ribbed matting to the end of the sluice box to help prevent gold from escaping.
Store this product in a location or container so it will not get bent.

I recommend this product.
The Magic Wand
Web site: www.prospectorinnovations.com
Contact: Casey Kelton (512) 497-7203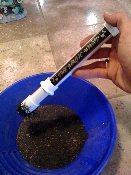 Every good prospector knows that when you use a magnet in your pan to separate the black sands from the gold you end up unintentionally trapping gold in between and accidentally tossing out the gold along with the magnetite. This is why I never use a magnet anymore. However, we were shown a demo for this device and I think it worked quite well. I purchased it and tried it out for myself on some concentrate that had been worked twice over from the blue bowl and successfully separated the magnetite from the gold with little or no gold loss.
Here are a few things we learned from trial and error
Twirl the wand in a fast circular direction high above the concentrate but keep the tip in the water.
Only do a little at a time to ensure your fine gold won't be sucked away with the black sand.

I recommend this product.
FootPrints
Web site: www.minerdiggins.com
Email: support@minerdiggins.com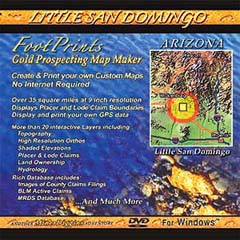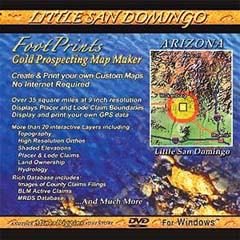 I sat down and got a demo from the people who created FootPrints. There are different sets of FootPrint software for known gold areas. Each software costs about $70.
You can overlay GIS data such as high resolution topography, hydrography, wash maps, bedrock maps, PLSS grid, claim locations, and also retrieve historical information, updated county records such as location notice maps and claim owner information. It also has GPS integration so you can see where you are at on the map.
I think this is an excellent tool to have out in the field while exploring because it makes finding information so much easier and faster with NO internet connection because all that data is cached on your computer.
Although if you did not have FootPrints, you could freely research all the same USGS maps, BLM, county records and everything else from the various web sites (in my links section) and carefully plan your trip before you go out into the field, but there is a chance that FootPrints may be needed.

I recommend this product.
We walked around more and met up with Tom Massie. We talked with him for a few minutes and got an autograph. It was neat to finally meet him after all the Gold Fever shows we watched. We bought more DVD's and went to his lecture about the Alaska Gold Expedition. It sure would be nice to go back to Alaska for a visit. For those of you who do not know I was born there and I am Alaska Native. I think everyone should experience Alaska because it is very beautiful and you will end up with memories that last a lifetime.
We also met up with Rob Allison who showcased nearly a quarter million dollars worth of nuggets he found. Very impressive. There was a huge pile of nuggets in which he found just last year in Arizona. He recommends going to Rich Hill. Rob occasionally takes people out prospecting when he has time. Rob sells metal detectors, books and other things. He has a web site forum which has been very helpful to communicate with other gold prospectors. Web site: www.nuggethunting.com